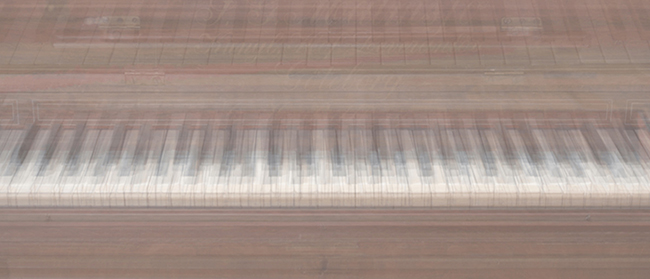 One-night event has been held at Konstfack's Studio, with the space being dressed up as a lounge. In order to create the right mood, we've produced a 23:36 video sequence of film fragments featuring a classic piano soirée (from The Legend of 1900 to Gosford Park and Pride and Prejudice). Any guest could then get a brief individual introduction to the system, so they could explore it at their pace and for as long as they wished. The feedback we received from both the "entertainers" and "entertained" was highly positive, with many mentioning innumerable opportunities offered by the software/device despite its seeming simplicity.

Watch a video documentation of this event below:


Filming: Steven Muir, Björn Sahlberg.

Sharing sounds and experiences: Player piano soirée
Testing the interactive environment in various situations (at Konstfack's sound labs as one-to-one meetings, in small group meetings as well as outside the institution) made us realise a significant potential of this invention. Irrespective of their music experience and background, the users found the process of operating the "Player piano" an entertaining and captivating exercise. This feedback gave us an idea of arranging a "soirée" where anyone could easily switch from being a member of the audience to a performer at any moment.