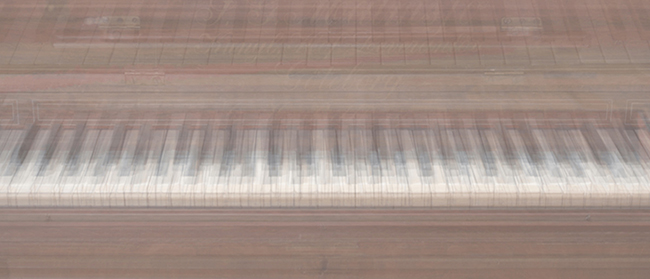 Collecting and activating sounds: Player piano
As a first step, we recorded nine different instruments — sampling their entire keyboards — to make them accessible for future "playing" and listening. This selection, done with the guidance of the institution, demonstrates both instruments that are still in good playing condition and others that are not.




Following the sampling, an interactive environment was developed to "play" with this collection of sounds in real time. The aim was to be able to explore the sonority of these preserved instruments, and even to expand their physical playing possibilities, avoiding all judgment of the collected sounds. A self-restriction has been imposed during this stage to preserve these sounds as they were, without manipulating them in any way; only
juxtapositions of the sounds were employed, as is the case in a mechanical player piano.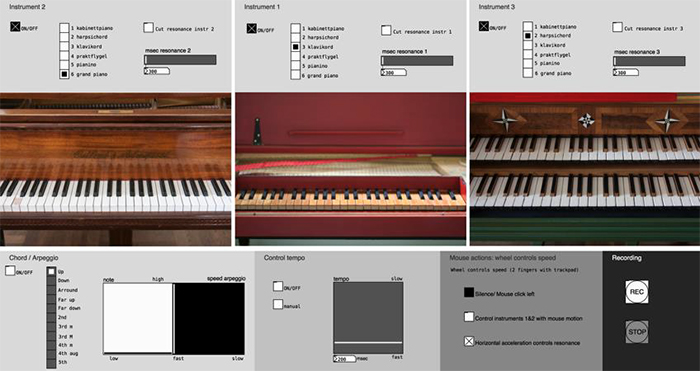 The original aim of this project was to grant universal access to some instruments of the collection, irrespective of each "player's" musical skills and knowledge. By doing that, we also wanted to question the barrier between music consumers and music producers, i.e. peoples' musicality or ability not only to enjoy but also to create musical structures on their own when given appropriate tools. To that extent, an interactive application was developed in the graphic programming environment PureData. We searched for an intuitive interaction mode allowing the users to control the instruments without requiring long instructions or training periods; for that aim we developed a specific hand-interface, able to accurately measure in real-time the turning angle of the hand in each axis as well as its acceleration in the space. Such simple movements trigger arrays of sounds, expanding the traditional playing possibilities of a piano.



During two months, a number of "players" (musicians and non-musicians) has been invited to explore this interactive system at Konstfack sound labs and provide feedback on the presented functionalities. By the end of each session each player was given an opportunity to record their musical fragment if desired.

The resulting pieces were shared in a one-day installation and event organized at Klaverens Hus 1 September 2018. For this occasion the recordings have been arranged in the form of collective sonatinas, each dedicated to one of the instruments explored. The materials were presented as produced, respecting the original contribution of each player.

The resulting sound files could be listened to individually at Klaverens Hus using headphones. The main aim was to give the visitors an on-site sonic impression of some of the historical instruments as if the players were physically triggering them. The sound files can also be downloaded and/or listened to online here:

The starting point for this project is Klaverens Hus, a collection of over 600 Swedish analogue keyboard musical instruments, of which around 60 are on display at the former community centre (Folkets Hus) in Lövstabruk, Tierp municipality, Sweden. The collection showcases the finest examples of these instruments, including grand and upright pianos, organs, harpsichords and clavichords.
Some of these are still in good playing condition and are used for concerts. Unfortunately, this is no longer the case for several others; neither "normal" playing nor repair intervention is possible. However, there still is a fascinating collection of sounds emanating from them.